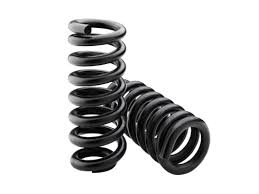 A coil spring is a unique mechanical device that is useful to store energy, absorb it, maintain it, and subsequently release it to maintain a force through a contacting surface. The other name for coil spring is helical spring. This compressed spring can store energy in its coil. Metal is the common material of coil springs.
The metal coil is useful in residential plumbing, automotive suspension, and mattress. The size of the coil spring depends on its various applications. A small coil spring is useful for an electronic device. A larger coil spring is useful in automobile suspensions. Steel, bronze, and brass are common materials for making coil springs.
Different types of Coil Spring
Coil spring suppliers offer different types of product as follows-
Volute-Volute is a type of compression coil spring that lives to its namesake by featuring the shape of a volute. In other words, volute looks like a cone. Volute coil spring is useful for the application of taking a heavy load. When a volute type of spring is exposed to a heavy load, it will become stiffer at the edge.
Arc-Arc coil spring is useful in automotive and mechanical derive. The Arc coil spring has an arched shape. Arc coil springs cannot run straight from one end to the other. The Arc coil spring has a curve in the middle.
Variable- Variable springs are those with a variable rate. When a variable coil spring is compressed, its compression rate will change between its turns.
Torsion- Torsion coil springs are a type of coil spring designed to withstand or resist twisting actions. Mousetrap is designed with a torsion coil spring. The torsion coil spring will retain its mechanical energy when twisted along the axis.
The Function of Coil Spring
A coil spring is a spiral of metal wire made of steel. A coil spring is a mechanical device that accepts a weight or force from one object to absorb the energy, and it can prevent a surface from being damaged.
Coil spring is mainly used for car suspension systems and clutches. Apart from this, coil spring is useful in various mechanical devices. In the door handles and toasters, coil spring is very useful and effective.
Benefits of Using Coil Spring
The significant benefits of using coil springs are as follows-
Coil springs are lightweight. This spring is surprisingly light for the power they provide. The spiral steel makes the spring stronger than its original state. The heating and cooling process helps to strengthen the metal. It makes them possible to use less metal to hold larger weights.
Maximum coil springs are made from steel; thus, it is inexpensive.
Coil spring has easy availability, which is the main reason for their budget-friendly nature.
The coil spring is maintained free. You do not need to lubricate the coil spring frequently.
The coil is versatile, which is the main reason for its popularity.
Try to choose any authentic online portal for selecting natural coil springs suppliers. It will help you significantly in many aspects.
This entry was posted on October, 17, 2022 at 17 : 10 pm and is filed under Coil Spring. You can follow any responses to this entry through the RSS 2.0 feed. You can leave a response from your own site.